GreenGuard Grazing Muzzle
Regular price

$ 99.95 USD

Regular price

$ 0.00 USD

Sale price

$ 99.95 USD
NOTE: THIS IS THE MUZZLE ONLY - Halter and accessories sold separately.
The GreenGuard Grazing Muzzle is truly the most comfortable grazing muzzle on the market. It limits grass intake as much as a traditional basket muzzle, but is more comfortable, lighter, and cooler with a patented open design that allows for unrestricted breathing and drinking. Made of material that is non-toxic, semi-flexible, durable, and does not absorb moisture, GreenGuard Grazing Muzzles often last much longer than traditional muzzles because horses aren't constantly trying to remove and destroy them.
Muzzle comes with 4 breakaway safety straps that attach to a standard halter (we recommend a safety halter), or it can be attached to one of our GG halters which has a ring on the noseband for easy attachment, a center face strap for stabilization, and padded nose and crown. GG halter sold separately. 
SIZING (U.S. and Canada only): These muzzles are designed to fit much larger than traditional muzzles. If your horse is between sizes we recommend going with the larger size. Horse size typically fits horses with 5-6 inch bit. Pony: 4.25-4.75 inch bit.  Mini: 3.5-4 inch bit. Below is an example chart of sizes.
Caution: Horse and Pony sizes may not fit in some types of automatic waterers if the diameter is less than 10 inches. Please check to ensure the muzzle will fit in your waterer before ordering.
SHIPPING: Customers outside of US & Canada - please contact your country's GreenGuard distributor to purchase GreenGuard products outside of the US & Canada. Free standard shipping on all US orders.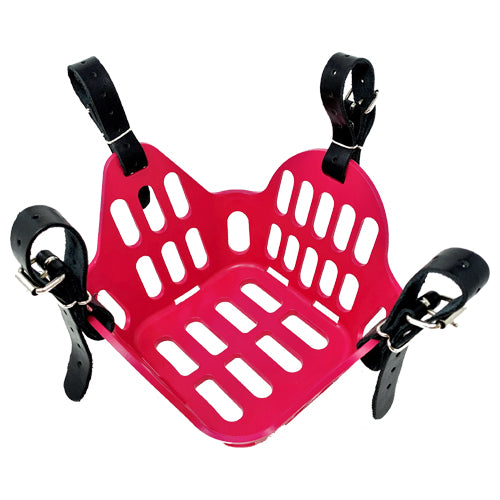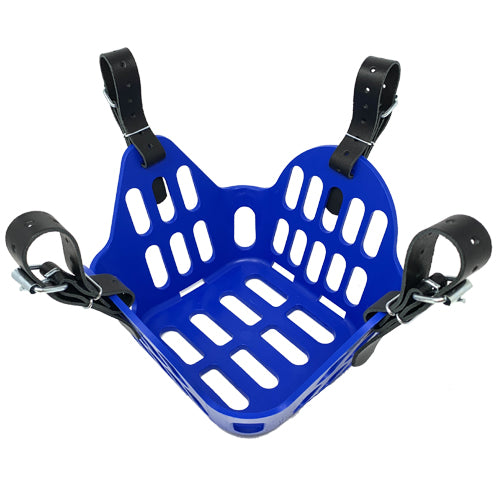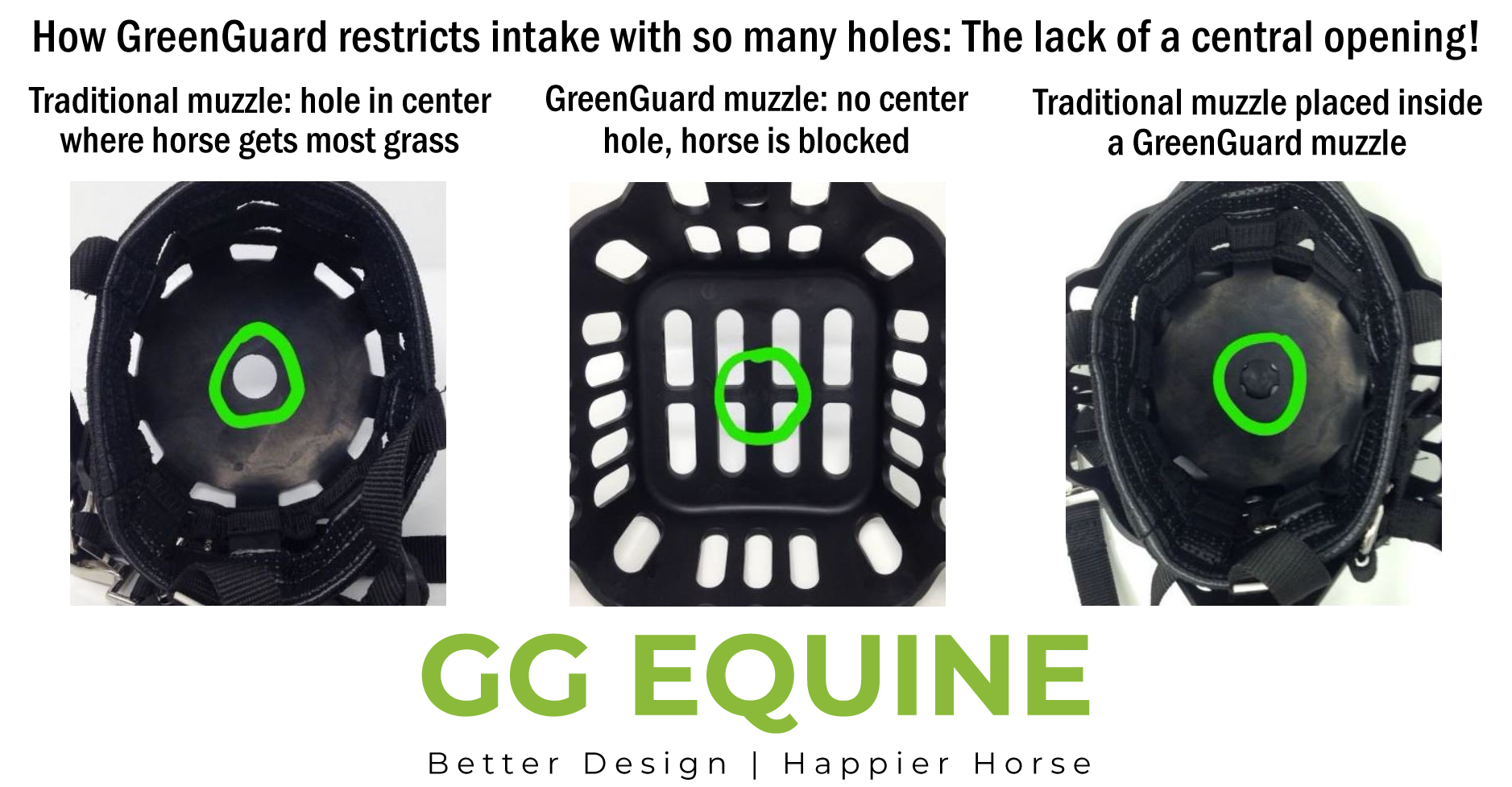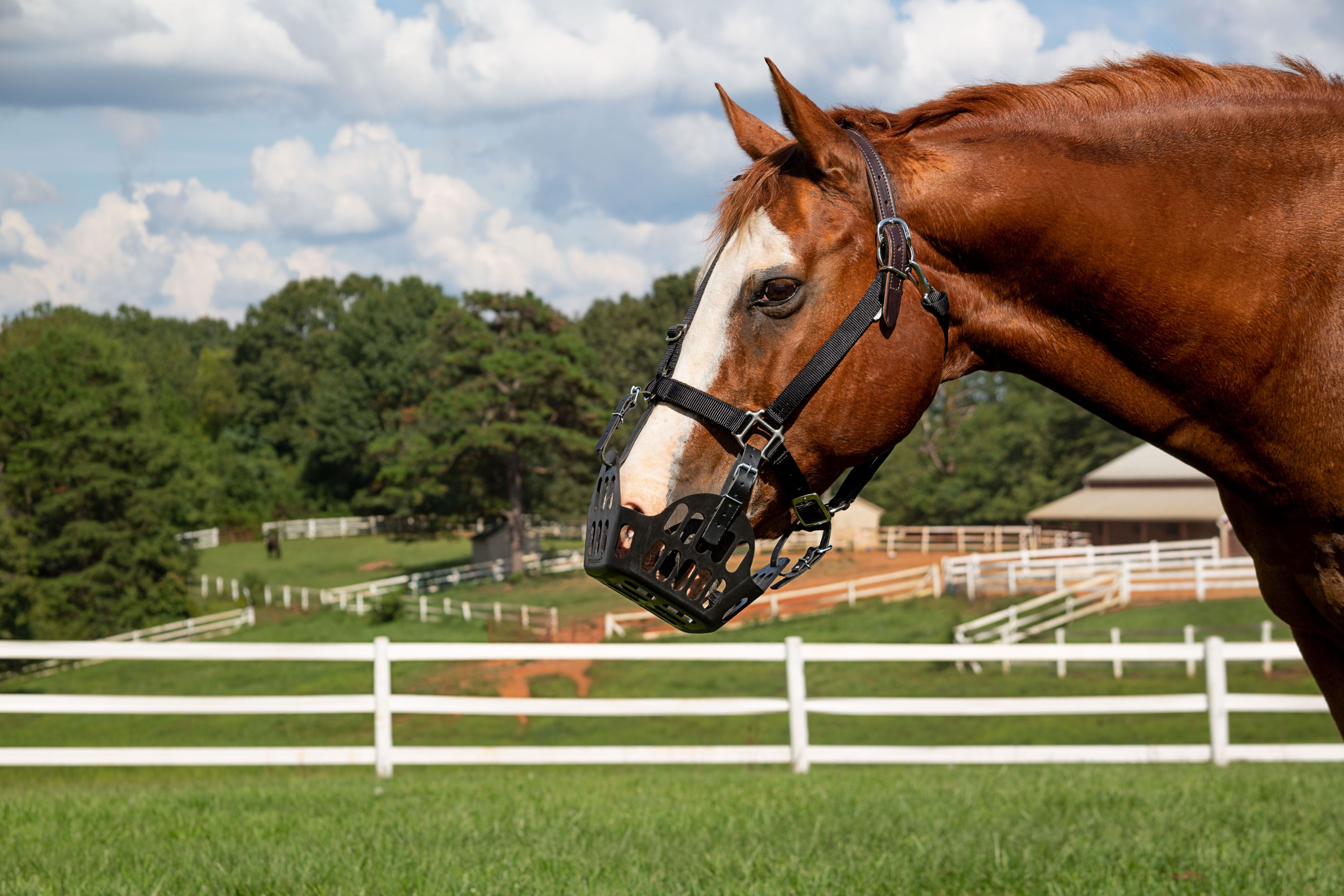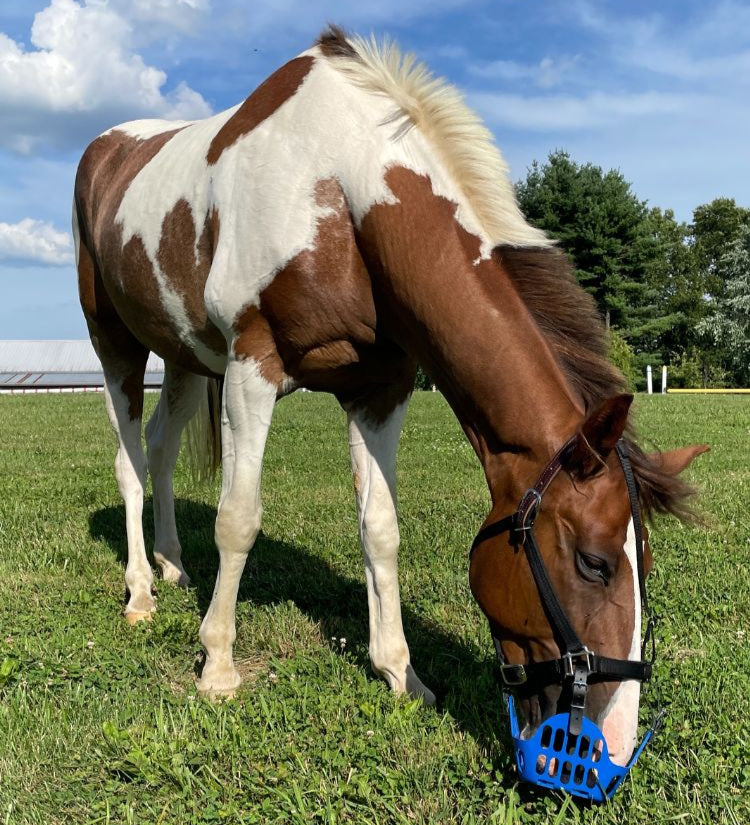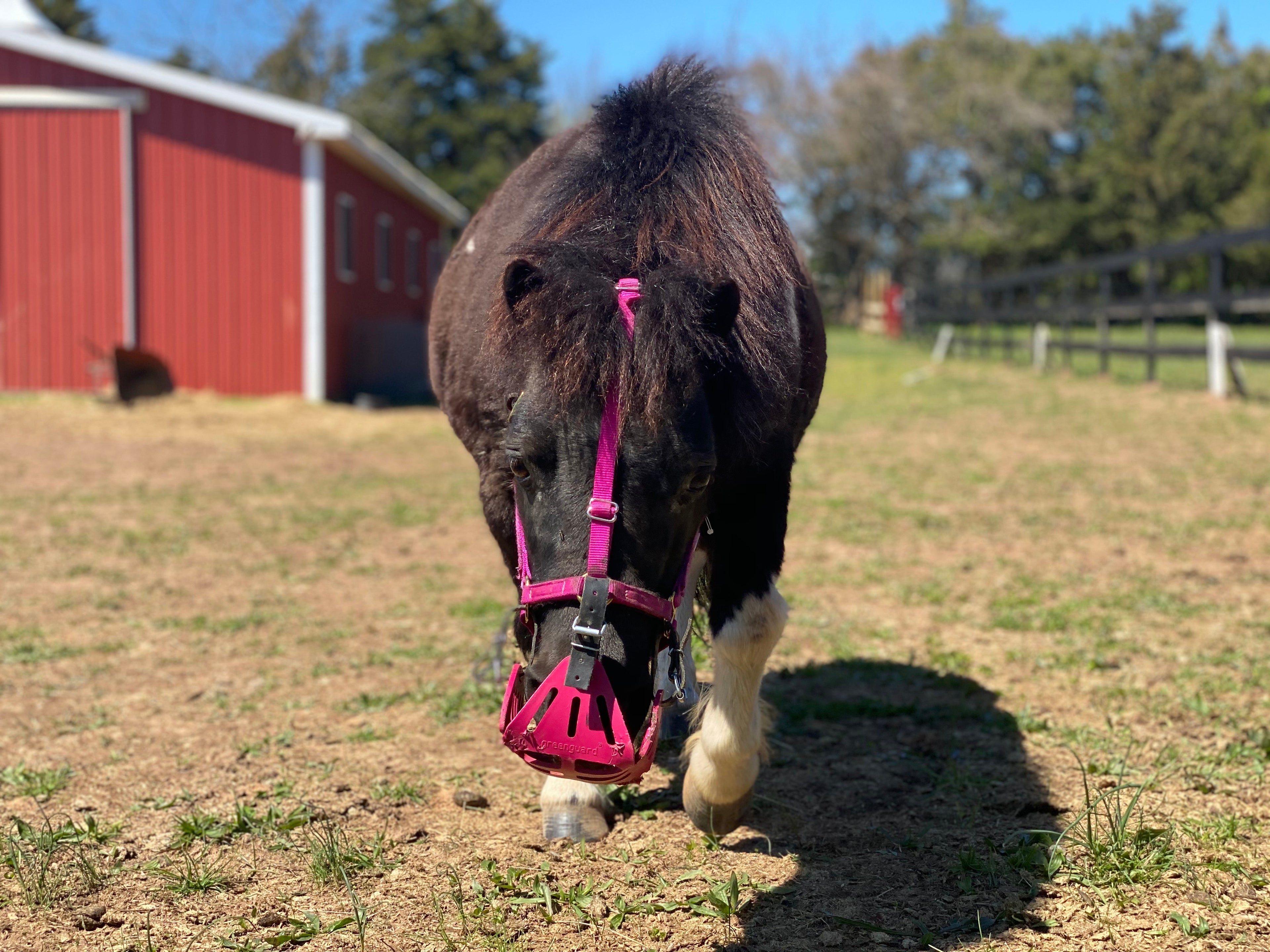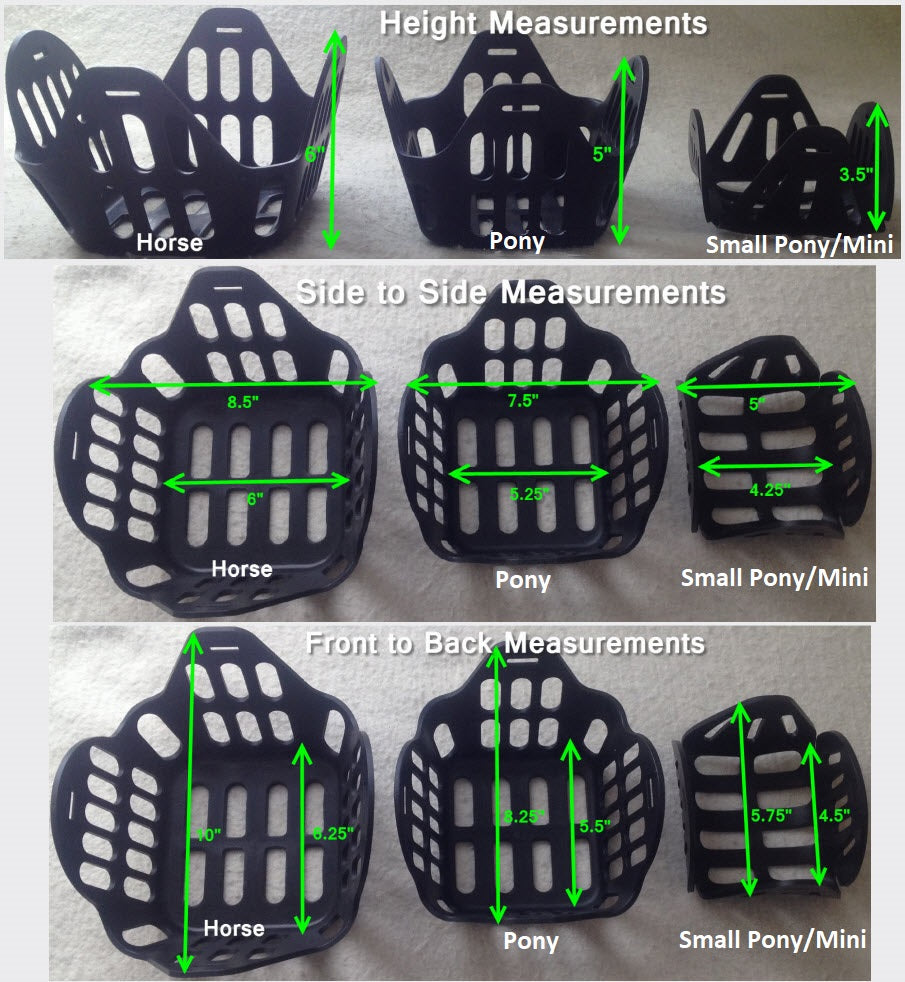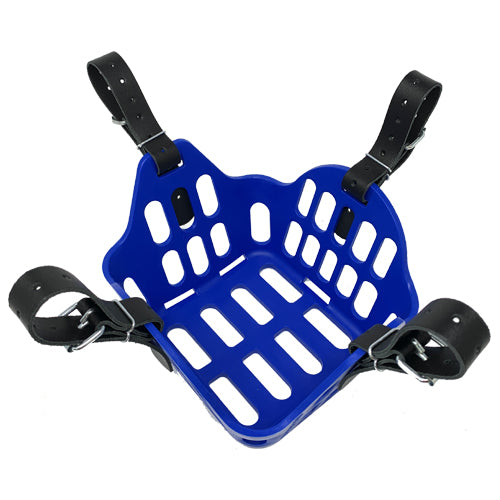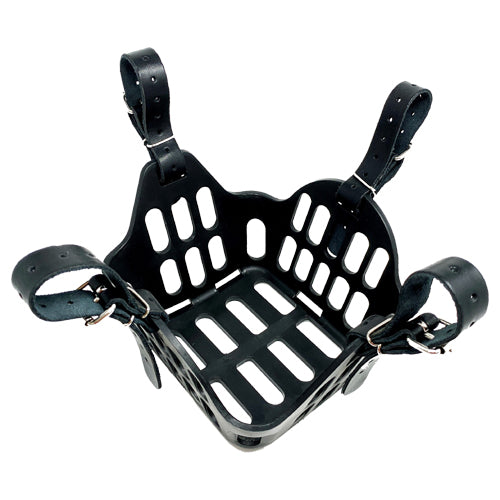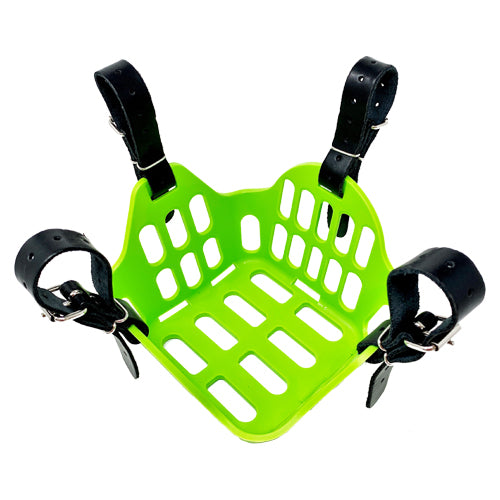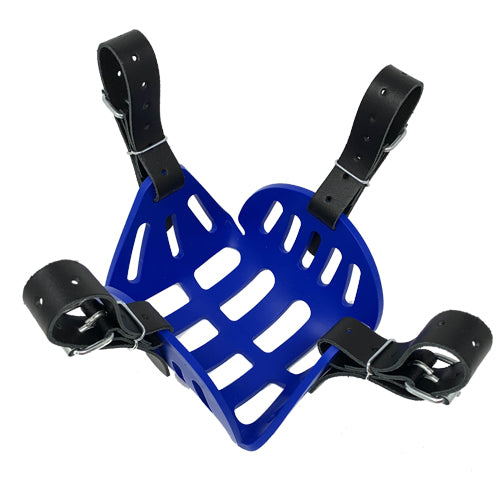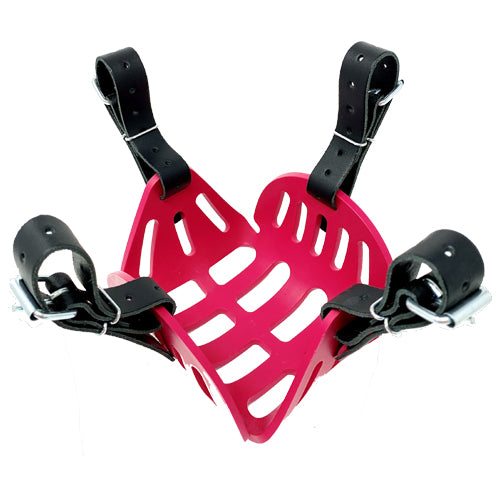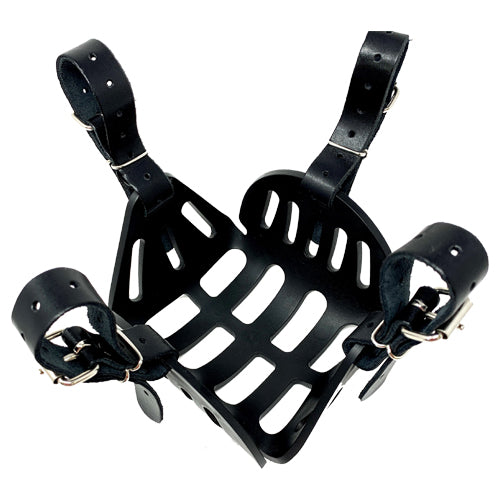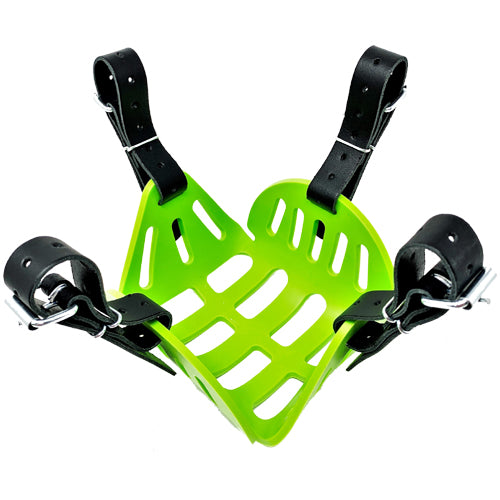 FAQs
Which is the right size?

GreenGuard muzzle sizing is based on your horse's bit size. See our complete muzzle sizing guide.
How to connect the straps?

As a rule, the muzzle is angled properly when the front strap is longer, and the rear strap (behind the chin) is very short. Here's our best practices video for our leather breakaway straps. It includes our recommendation to cinch them down with electrical tape. Loopy straps can get caught on things and breakaway prematurely!
Will it work with my horse's halter?

The GreenGuard muzzle is compatible with just about any halter you've ever tried. It's just a matter of finding the right connection points, keeping the muzzle from sliding, and using a breakaway safety halter. Here's our tutorial on attaching a GreenGuard muzzle to a standard halter.
You can also convert any halter into a GG-style halter - with a center face strap - by using our fleece converter set. The fleece helps prevent rubs while the center strap provides an anchor for the front muzzle strap.
Prevent and Manage Rubs
Can i cover muzzle holes?
Muzzles and Tooth Wear

According to the National Equine Welfare Council's "Grazing Muzzle Guidance," all grazing muzzles carry a risk of tooth wear. The NEWC recommends your horse get at least an annual check by an equine vet or dental specialist.

This video addresses everything we know to date about preventive measures and solutions for tooth care while using a grazing muzzle.

We highly recommend cleaning your GreenGuard muzzle and checking your horse's teeth regularly when they are wearing a muzzle.

Finally, leather and rubber muzzle inserts have been designed to prolong the life of your muzzle and to wear faster and be gentler on horse teeth.
How much do muzzles restrict grass intake?

According to the National Equine Welfare Council's "Grazing Muzzle Guidance," "grazing muzzles can reduce grass intake by up to 80%." (seek to 4:24 in the video link for the exact quote)

In practice, real grass restriction depends on a number of factors: the grazing muzzle, the horse that is wearing it, how long the grass is, and how practiced the horse is at grazing in a muzzle, among others.

What is undeniable is that horses in grazing muzzles get more exercise than horses in stalls or in dry lots. A turned-out, muzzled horse gets less grass and more exercise, both of which contribute to weight management.

If your horse requires further grass restriction than the muzzle alone, there are solutions. Muzzle inserts cover off between 30% (leather) and 50% ("diet") of available grazing area.

We have also developed methods for further customizing the size of the GreenGuard muzzle holes. This project requires a vinyl placemat and one of our leather muzzle inserts.
Is there a "Diet" insert for the mini muzzle?

The tabless leather insert - for Mini, Pony, or Pre-2022 Horse- size muzzles with no slots - has holes about 30% smaller than the muzzle as is.

The part that is blocked with the leather insert is right down the center which is the main grazing area in the mini muzzle.

Because of the mini muzzle's unique curvature, they typically aren't able to graze through the outer edges very well, so their actual open grazing area is quite small with the leather insert. The leather insert also makes the muzzle grazing surface much thicker. Most owners find that the leather insert provides the right amount of restriction and is comparable to the diet inserts in the other two sizes even though it doesn't look as restrictive.

While you can customize the size of the mini muzzle's holes, we do not recommend doing this unless you have been advised by a vet or nutritionist that they need this level of grass restriction.
Houdini is Thwarted
My small, in store only, horse could literally eat himself to death. But he has escaped from every grazing muzzle I have ever bought or rigged until I bought this Green Guard.
I needed help w sizing and fine-tuning adjustments on how I situated the set-up, but communication via text and email was easy and quickly answered. Doc has been able to graze in a regulated fashion all fall. His weight, gut and hoof health have stayed sound.
Caroline, we're so glad that the GreenGuard muzzle has been effective for Doc where others could not. The most important thing to us is those last couple of sentences - that Doc is healthy and able to be on pasture safely. We're also glad you found our customer support team helpful; please stay in touch with any issues or questions!
Holds up
All of our guys use through out the year. One is in it 24/7! It holds up well to all the wear and tear. Very satisfied customer.
KW, thank you so much for entrusting your herd's grazing time to GreenGuard Grazing Muzzles. It's humbling to play a small part in keeping your horses grazing safely and comfortably on pasture! Please don't hesitate to reach out if y'all ever have any questions or issues!
Love it! My draft cross is extremely overweight being on roundbale all the time, and this is already helping. He figured it out super quickly & isn't frustrated by it at all! It hasn't really rubbed him and seems to fit well.
It think this muzzle is great! My donkey not so much! LOL
I think this is a really good grazing muzzle -- much better than the old traditional kind. It took a bit of consulting with the EXCELLENT GG customer service reps to get the fit right. But now it is fitted correctly, and my donkey is getting used to it. But he, of course, complains when I put it on him. Thank you GG for coming up with a better muzzle!
Lisa, thank you so much for this review! Your donkey is such a handsome fellow! We hope he gradually becomes accustomed to - and dare we say, comfortable - in his GreenGuard muzzle. Please don't hesitate to stay in touch via the support email if you or he run into any issues at all. We're here to help y'all during your entire muzzle journey!
Ginger & GG
Spectacular design.
Quality craftmanship.
Effective product,
designed for comfort. After a slight learning curve, munching no problem. Ty
Susan, thank you so much for your poetic review! We are truly thrilled that Ginger was able to learn how to graze with the muzzle on relatively quickly! Please don't hesitate to reach out to customer support if either of you ever have any questions or issues! We're here to support you both over the life of the product.