Slow-feed HayPlay Bag XL
Regular price

$ 119.95 USD

Regular price

Sale price

$ 119.95 USD
Non-toxic, ultra-durable, easy fill, slow-feed hay bag that will hold almost a bale of hay. 
Unlike haynets, this bag keeps hay entirely contained and clean, resulting in virtually no hay loss. It also greatly reduces dust and allergies from loose hay that can cause respiratory problems and breathing issues. Triple-reinforced, 3-inch holes were specifically designed to slow intake while allowing the horse to eat naturally, reducing neck and back strain caused by pecking at small-hole nets. 
Made of heavy-duty, weatherproof, PVC-coated material, this bag can stand up to the toughest conditions. It will not weaken in extremely cold or hot temperatures. Heavy-duty zipper and velcro closure make it easy to fill. Solid back keeps hay clean when ground feeding, or you can hang it in the stall using the heavy-duty mounting holes.
Sizes:
XL

 dimensions: 39 inches (100cm) x 47 inches (120cm) 

~1 bale 
SHIPPING: FREE standard shipping on all US orders. For shipping costs and details, see our shipping page.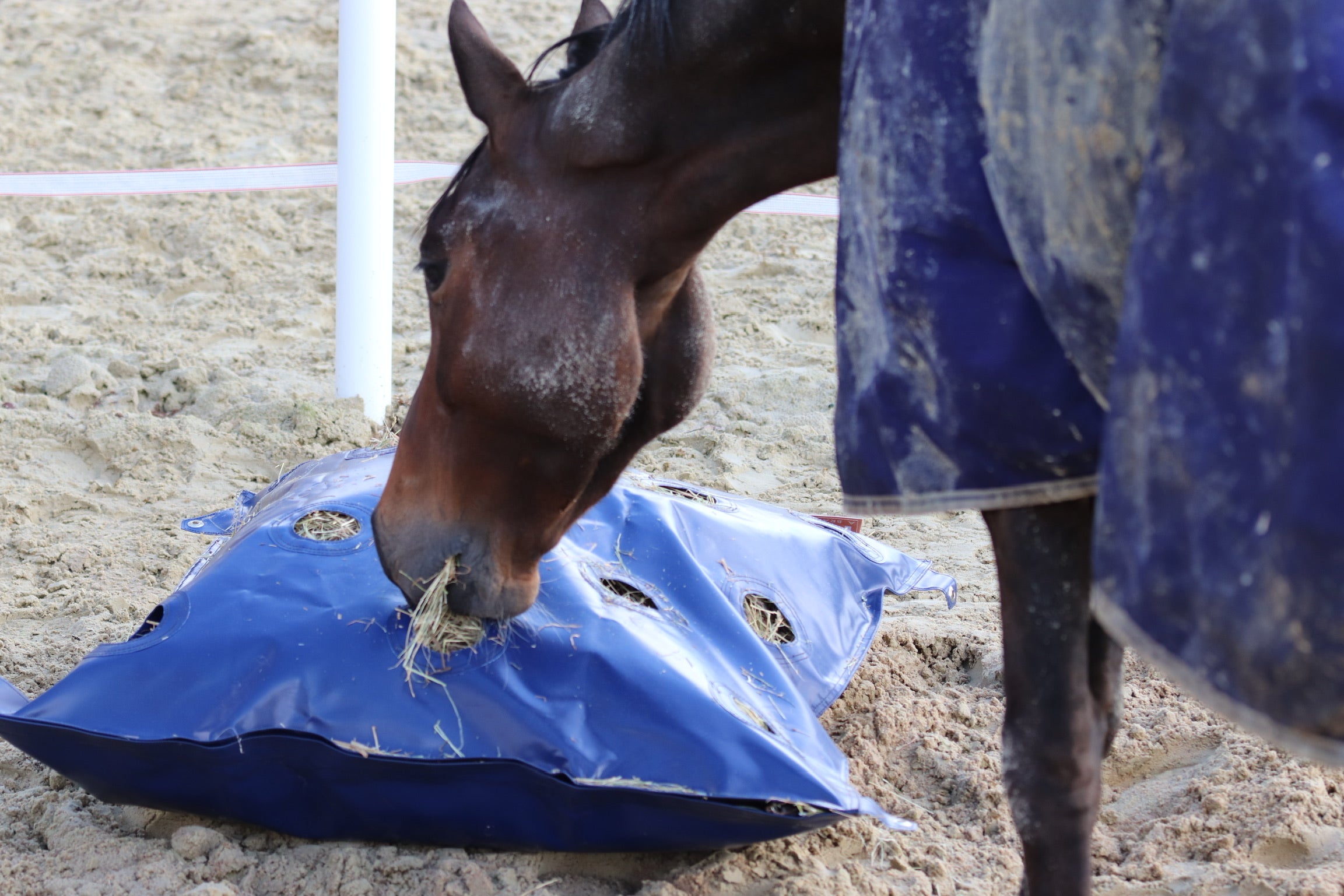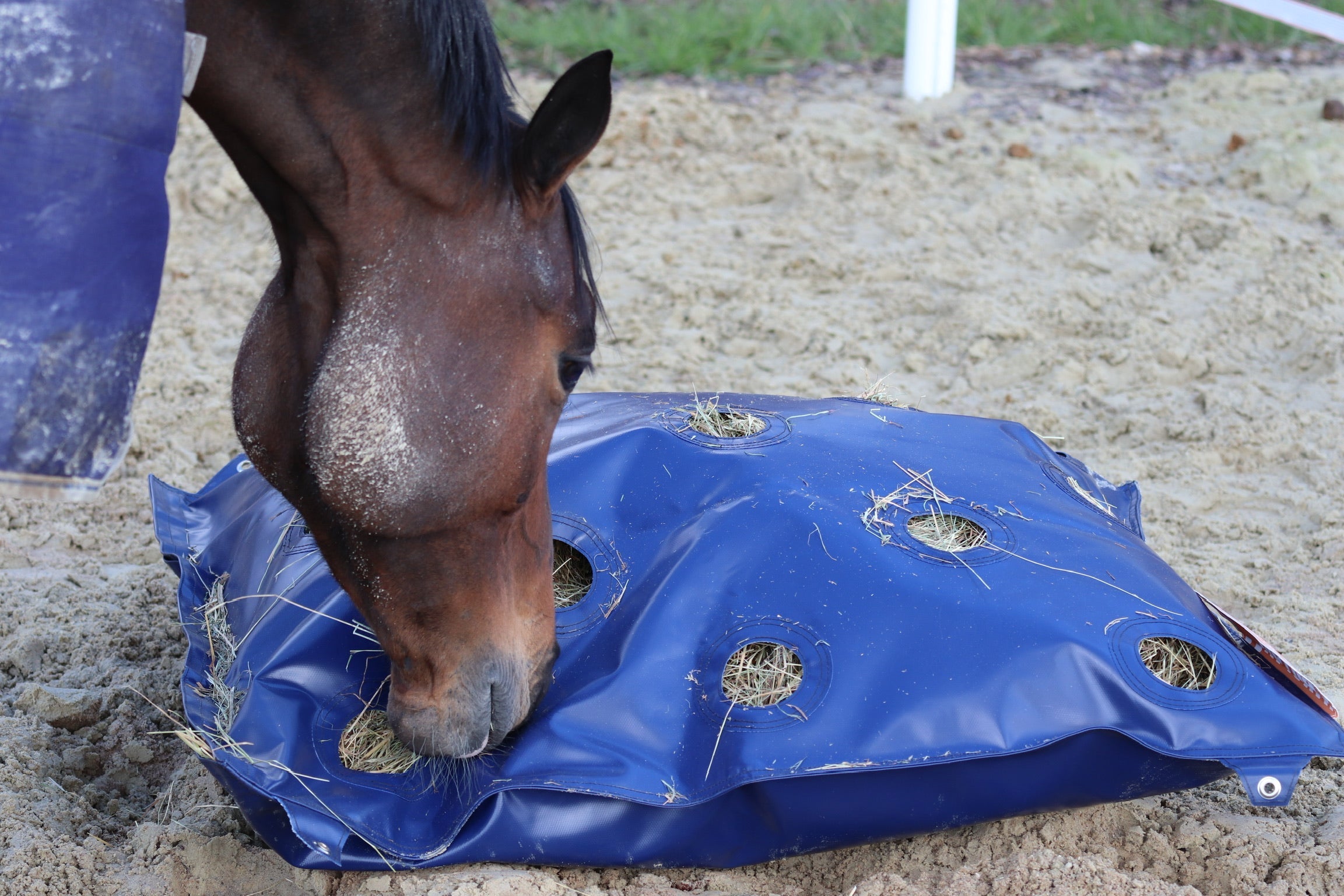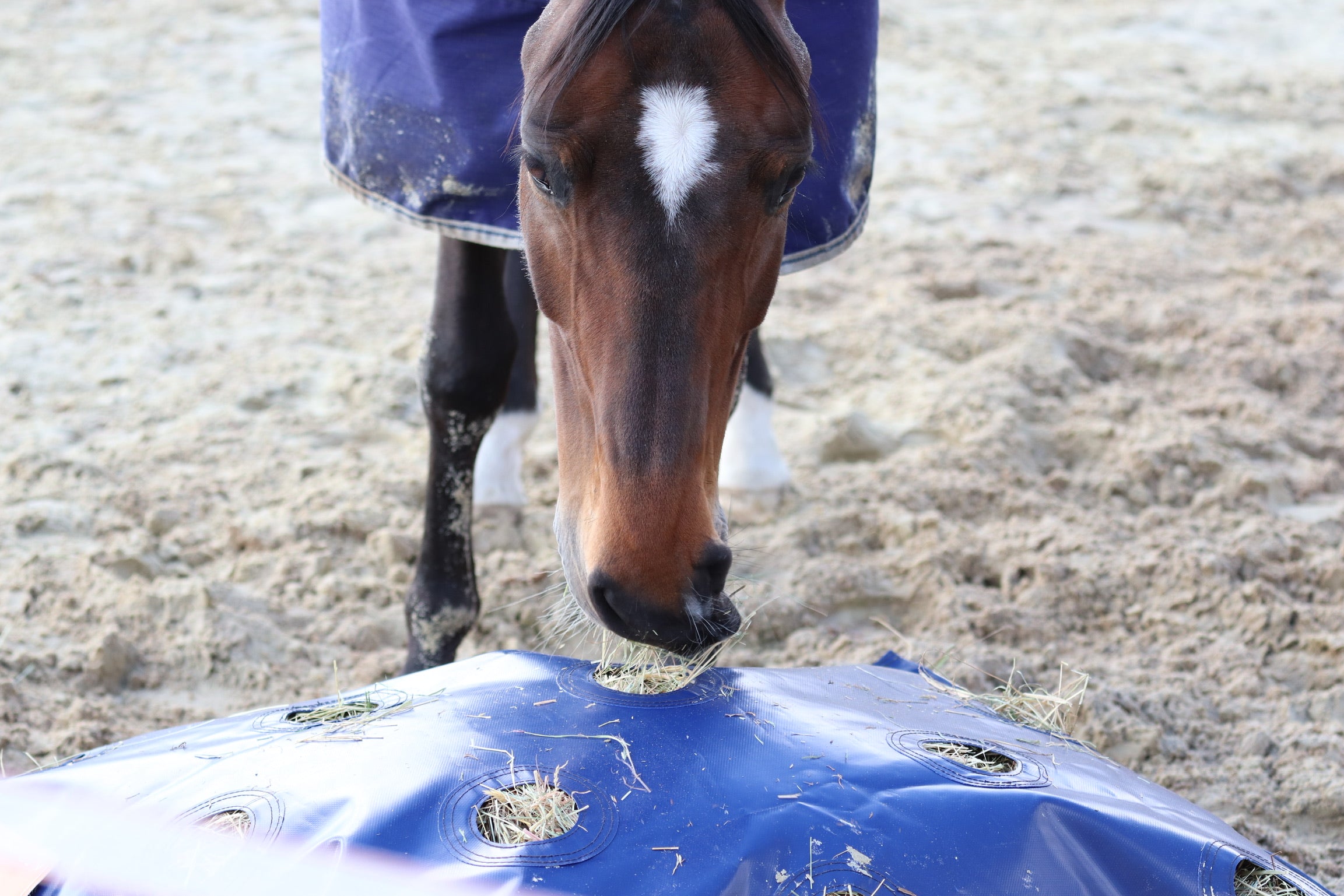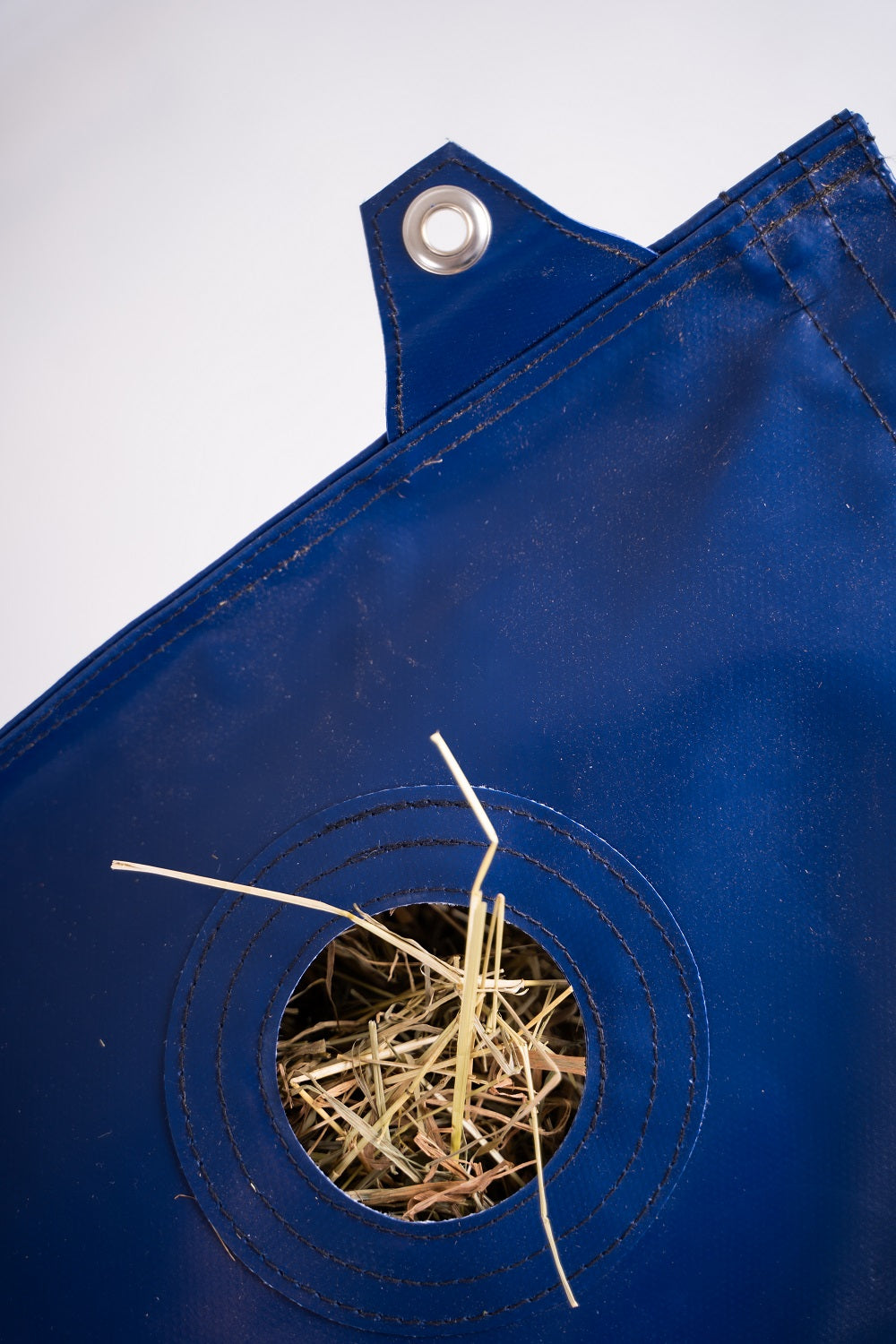 FAQs
How to use

Hanging it: Use the heavy-duty mounting holes to hang it in your stall or turnout area. For safety, we recommend using baling twine so it will breakaway in case of emergency. Position the mounting points so that the bag has some slack and billows out. This will help keep the horse from scraping teeth across the material when the hay level gets low and prolong the life of the bag.

Ground feeding: You can place the HayPlay Bag XL directly on the ground in your pasture or dry lot. The back side of the bag is solid, so it will keep hay from touching the ground. We recommend placing it on a soft surface free of sharp rocks and gravel to prolong the life of the bag.
How Much hay is in a Bale

When you say the HayPlay Bag XL holds a "bale," do you mean an East coast (or "2-string," weighing around 50lb) or West coast (or "3-string," weighing around 120lb) bale?

The HayPlay Bag holds a lot of hay, to be sure, but its capacity is much closer to an East coast / 2-string / 50lb bale.
Our bags vs hay nets

Slow-feed hay nets can cause a lot of neck and back strain because the horse has to peck at the hay. Our bags offer larger holes, which reduce strain and tension.

In fact, the hole size in our bags was rigorously tested and designed specifically to be large enough to allow stress-free eating but small enough to slow them down.
What is the bag made of? Is it durable?

The HayPlay Bag is constructed from a food-grade, non-toxic, heavy-duty, marine-grade, PVC material that remains flexible in extreme conditions. The material does not hold moisture so it will not freeze, crack, or become rigid. Temperature range: -22F to +158F (-30C to +70C)

It is very tough and durable. Here's a video about the materials and construction of the HayPlay Bags!

We offer a 1-year, one-time replacement warranty that coversthe following: all hardware parts, the stitching around the holes, and tears in the material larger than 1 inch. Normal wear and tear on the bags, like the outer coating wearing down and minor cracking, is not covered.

We are confident that the bags will maintain their usability for a long time, so please reach out if any minor damage becomes a larger issue that qualifies for a replacement.
Can a 3" hole really slow intake?

There is a big difference in how horses eat from a hay net vs these bags. Even the smallest 1" slow-feed hay nets have more open surface area than our bags. So even though the HayPlay Bags have larger openings, there are fewer of them and hay is less exposed because it is enclosed.

Our experience is that the "snack-size" bag will last a typical horse about 4 hours, the half-bale size about a day or night, and the HayPlay Bag XL about 20 hours.
Is it safe for horses with shoes?

Yes, they are safe for shod horses! Unlike hay nets, these bags are a solid material so there is no netting for legs or shoes to get entangled in.

We do recommend using baling twine (fiber, not plastic) when hanging the bags, so if a horse were to get caught somehow (since they are horses), the twine would break rather than the bag.

If you are using the HayPlay bags on the ground, please see our tutorial on how to tie your bag safely
Can I use it for my mini?

Yes, they are safe for miniature horses and donkeys of all sizes! Even if a mini happens to put a hoof in one of the holes, they will usually just pull their hoof out with ease.

There is nothing for them to get tangled in like with hay nets. Click here for footage of minis interacting with the HayPlay Bag XL.
Care Instructions

Rinse with water or wash with a mild soap. Avoid using abrasive cleaners as this can damage the outer coating.

If you hang the HayPlay Bag XL in a stall, occasionally rotate the direction the bag is hung so that your horse's favorite hole locations are not overused.

Keeping bags relatively full can help decrease stress on the bag from pawing, biting, etc.
Hayplay bags and Hayplay XL
Canadian customer here- ordered two hayplay XL and 2 hay play bags. Within 2 weeks- the zipper on the XL proved problematic (one was defective and the other- the zipper pull broke off). They were great with replacing the bags- so customer support is great, just hope they can figure out a better system than the current zipper- other than that, the product is great.