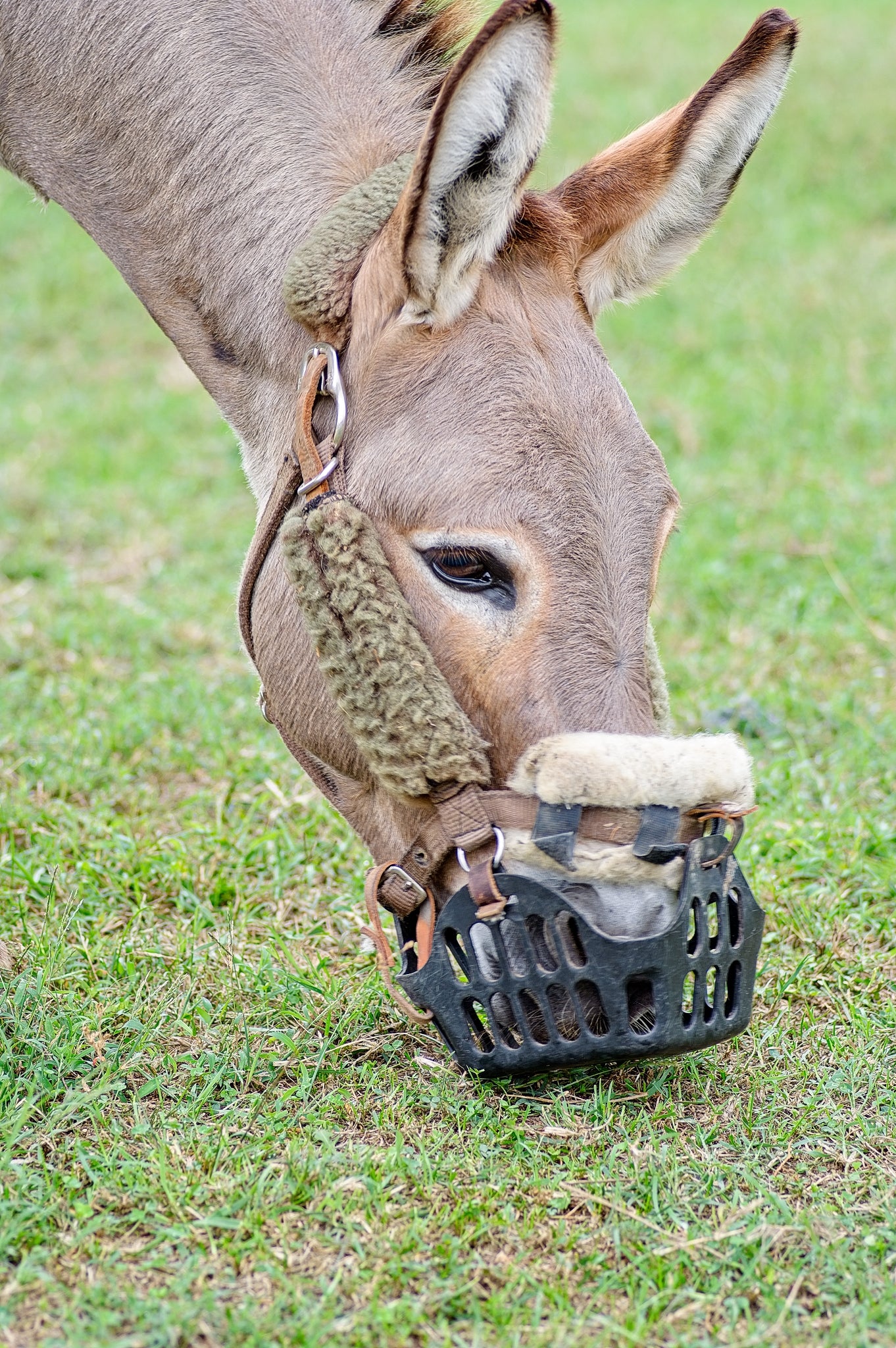 Muzzle Fitting for Donkeys
Donkeys can be tricky to fit since their noses and heads can be very differently shaped than horses. They often fall in between our pony and mini sizes. In general, most standard donkeys need our pony size muzzle, while mini donkeys typically need our mini muzzle.
Start by measuring your donkey's bit size. Use a cloth measuring tape or piece of twine, slide it in their mouth. Measure where it comes out on the right and left sides at the corners of their mouth and add .5 inch to get their bit size.
If your donkey wears a mini muzzle and it's a bit too snug, you can widen it using this tutorial.
Muzzle Size chart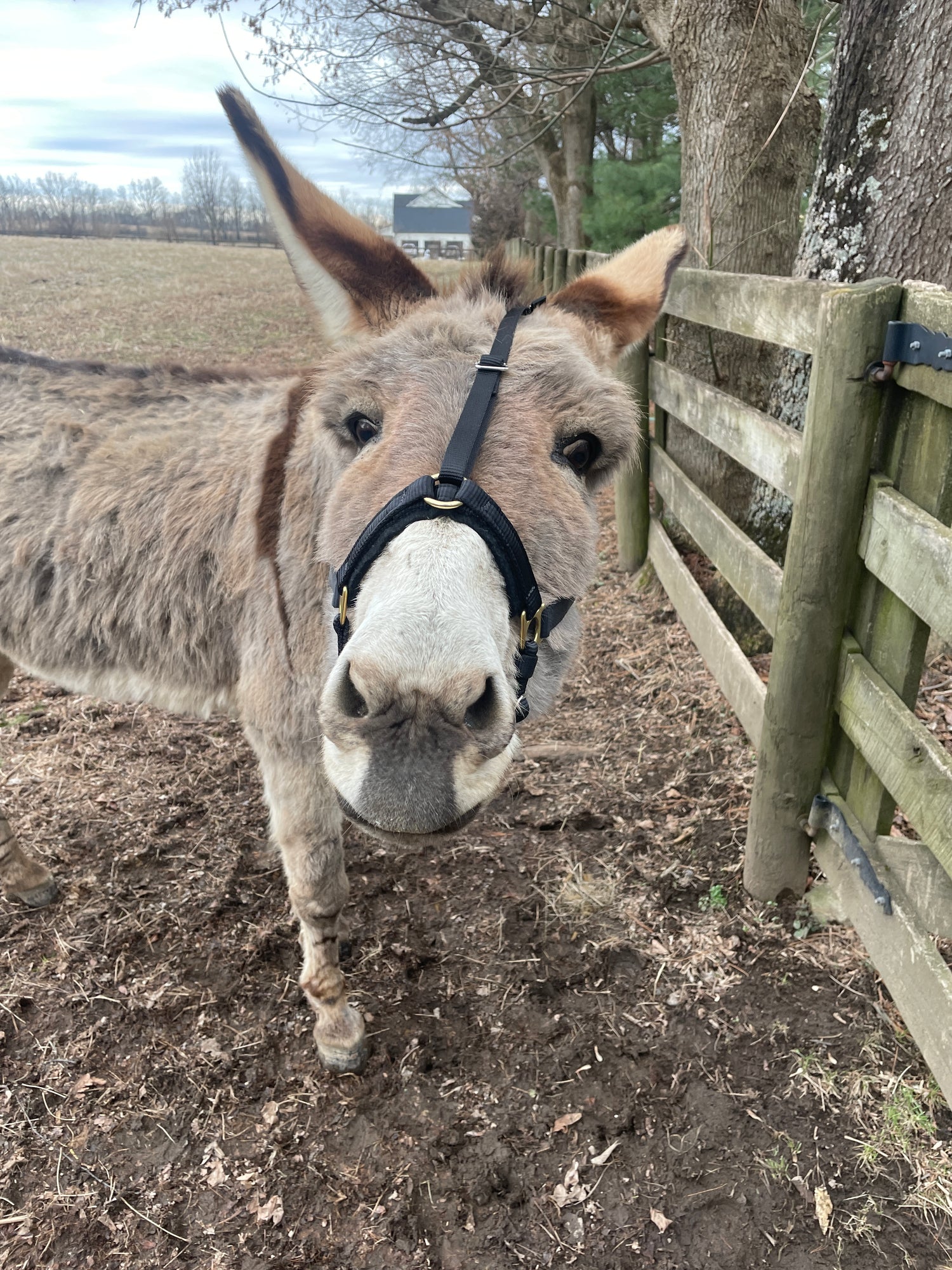 Halter Fitting
Donkey heads tend to be both narrower and longer than horses, making them tricky to find halters that fit well. Start by taking these measurements:
Around the nose, where a halter noseband would typically sit
Neck circumference at the smallest part behind the jaw
Face length (corner of the mouth up to the halterpath / center of the head behind the ears)
Compare your results to our halter size chart
Most mini donkeys will fit in our small pony halter. If they have a larger jaw, the pony size might fit best. You can also add a center face strap to your own halter with our Fleece Converter set.
Halter Size Chart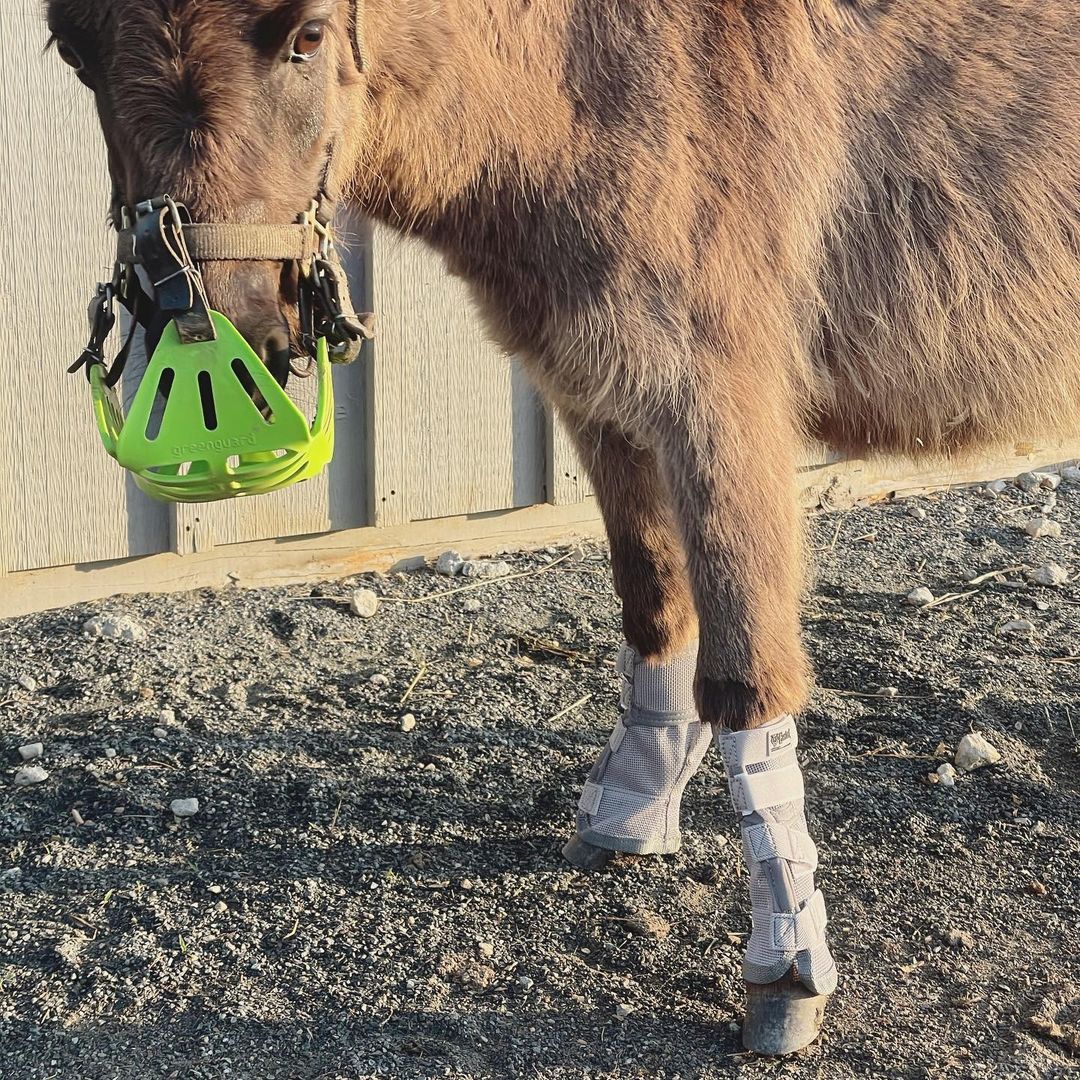 Best Hoof Forward
Because donkey hooves run small, they can sometimes accidentally get stuck in the corner of a grazing muzzle.
Use the creative corner strap configurations linked below to block openings. Make sure the gap between the halter noseband and the muzzle is as small as possible.
Questions? REach out!
A Note on Our Halters
Our halters are designed to fit longer than traditional halters and more snug around the small part of their neck rather than loose across their cheekbone like a traditional halter. This helps keep them from removing the halters over their head.
One consequence is that your new halter may seem on the large side right out of the box. You're always welcome to send us photos of it on your donkey so we can help you determine if the size is correct.
We are always happy to help with fitting. Our halters are very adjustable, so we should be able to find a halter to fit any donkey or mini donkey. We have a 30-day return window, so anything you try out will be fully refunded as long as you return it within 30 days of purchase. If you have any questions, email us for quickest service!
Reach Out!