Houdini Helper Neck Strap
Regular price

$ 24.95 USD

Regular price

Sale price

$ 24.95 USD
Added strap that keeps your houdini horse from pulling the halter off over the ears. Simply slip it through the loop on the crown strap of the GG halter. Ensure the strap is snug (slightly looser than a cribbing strap) and voila your houdini has been thwarted!
For a non-GG halter you can make a loop with twine, string, hook 'n' loop (read, "velcro"), or zip ties and use that to connect the neck strap and crownpiece.
Is your horse wearing the neck strap and still pulling the whole kit off his head? Skip ahead to the "Extra Security" segment of our tutorial video for advanced houdini horses. It starts around the 5:50 mark.
SIZING:
Horse circumference: min 30 inch - max 40 inch
Pony circumference: min 21.5 inch - max 29.5 inch
SHIPPING: FREE standard shipping on all US orders. For shipping costs and details, see our shipping page. 
---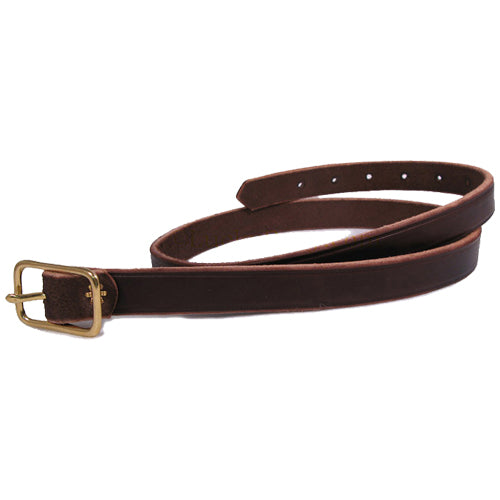 FAQs
Horse Still Escaping?

Is your horse still wriggling out of his halter and muzzle, even with a neck strap? Don't just pull everything tighter; sometimes, that just makes it easier for a horse to escape.

The "Extra Security" segment of our tutorial video illustrates how to anchor the neck strap to your horse's halter, and where to position it, so that your horse cannot get the rig over his head. This segment starts at right around the 5:50 mark of the video.

We are very familiar with houdini horses and other escape artists. We have an entire page dedicated to keeping horses in muzzles and halters.
Add a Second Throat Latch

If you have an escape-prone horse, who finds new ways to wriggle out of their muzzle or halter, we have solutions!

If you've tried the neck collar technique, and your horse is still getting loose, we have developed a DIY strategy for adding a second throat latch strap.
Have questions? Reach out!

If you have a query that isn't answered by the full tutorial video, feel free to ask us! Just send an email to support@gg-equine.com.

Please send a photo of your horse wearing their full muzzle and halter setup. The photo should be taken directly from the side with your horse's head up. That will give our customer service team a chance to assess the situation and offer better help.
Fixed my escape artist !!!
This was the best investment my Friesian was so good at slipping off halters no matter how tight the halter was he was fast drove us all nuts
When I found this I was this it !!! That will fix his wagon !!! Sure enough he can't escape !
The screw that held the hobble together came apart but I used a leather string to fasten it back together!
Game Changer!
This made all the difference for my Houdini! I had been struggling to keep his GG on him and held my breath every morning only to have to hike the field to find his gear. I added this strap and the corner straps (also highly recommend!) and now I don't worry about escapes. He's been very philosophical about it all since then too about wearing it all night and being free for the day - that's the happy balance for us.
It works
My guy still managed to get his head strap off, but never the whole halter while using the houdini strap!