Muzzle Replacement Straps (Pair)
Regular price

Sale price

$ 9.95 USD
Replacement breakaway straps for GreenGuard Grazing Muzzle. Includes 2 replacement straps. New design with stronger buckles, rear and front keepers, and made from genuine leather. 
Get the most life out of your breakaway leather straps by using electrical tape to cinch the loop. Our tutorial video shows you how we recommend securing your muzzle straps. 

SIZING: One size.

SHIPPING: FREE standard shipping on all US orders. For shipping costs and details, see our shipping page. 
---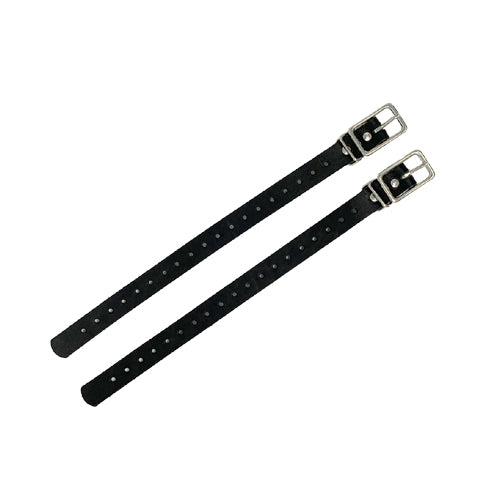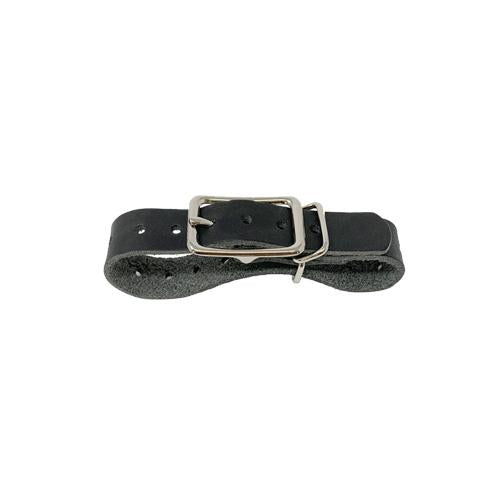 FAQs
Maximize Your Muzzle Straps

Just because an item is breakaway, you don't necessarily need it breaking away on day one. Loopy straps can get caught on just about anything. Get the most out of your leather muzzle straps by using electrical tape to cinch them down. Our tutorial video shows you our best practices.
Moving On from Leather?

Quality horse tack is made from and synonymous with leather. Right? Tradition is a fine thing, but when a leather strap breaks away, it is useless!

We developed Hook and Loop (read: "Velcro") muzzle straps to give you and your horse the benefits of breakaway tack, but also to give you the ability to reuse the same straps through multiple breakages (heaven forbid).

Check out our reusable hook and loop straps.
Have Questions? Reach Out!
Best Grazing Muzzle System on the market!
I periodically purchase replacement straps. We have been using these muzzles for almost 4 years! Fabulous muzzle system Our horses are cute...we say put on your helmet...they put their heads down and on goes the muzzle and out they go!
Muzzle Replacement Straps (Pair)
Muzzle is fantastic. My horse is completely happy with her muzzle on!
new muzzle
I love using these grazing muzzels. The are the only ones I have found that allow my horses to be in a pasture. The do not get rubbed or hot spots. For this order I had to replace one due to one plastic piece cracking. I hope to send a picture to GG and see if they will honor a new one. I have purchased 6 this year. One got hooked onto a barn door and was pulled apart. That was not a product issue it was a horse being in the wrong place. I bought a new one for my caregivier who used hers while I was out of town. My horses are thriving with the muzzels and can be on pasture and not locked in the paddock. It saves time, clean up and hay if I have to keep them confined. They each lost 50 pounds and it made a huge difference for their hooves. I can turn them out and do not worry. I use the GG halters and I recommend them as being the best set up. I will continue to use this company and I do hope to work with them on this one muzzle due to the small crack. I do remove them during heavy rain storms here in South Carolina. When they get wet they can rub alittle and our rain storms are extrememly heavy. But they dry out in a day and I am back to feeling safe with 3 of my horses wearing them March through October. Very pleased with how they work, look and the speed at which they send me the products. I love GG
Muzzle Replacement Straps (Pair)