Halter - Premium Breakaway
Regular price

$ 69.95 USD

Regular price

Sale price

$ 69.95 USD
Halter with breakaway leather crown designed for use with the GreenGuard Grazing Muzzle. Premium quality, soft to the touch nylon with durable felt-padded nose and breakaway leather crown. Unique throat latch is adjustable to fit many different head shapes, helping to keep the halter on even the trickiest "houdini." Center face strap stabilizes the halter and can be removed if desired. Made in the USA.
SHIPPING: FREE standard shipping on all US orders. For shipping costs and details, see our shipping page. 
SIZING: Not sure what size you need? Check out halter measurement chart below. We also have a tutorial video showing how to measure your horse for a halter. If you need the mini or small pony premium halter, click here.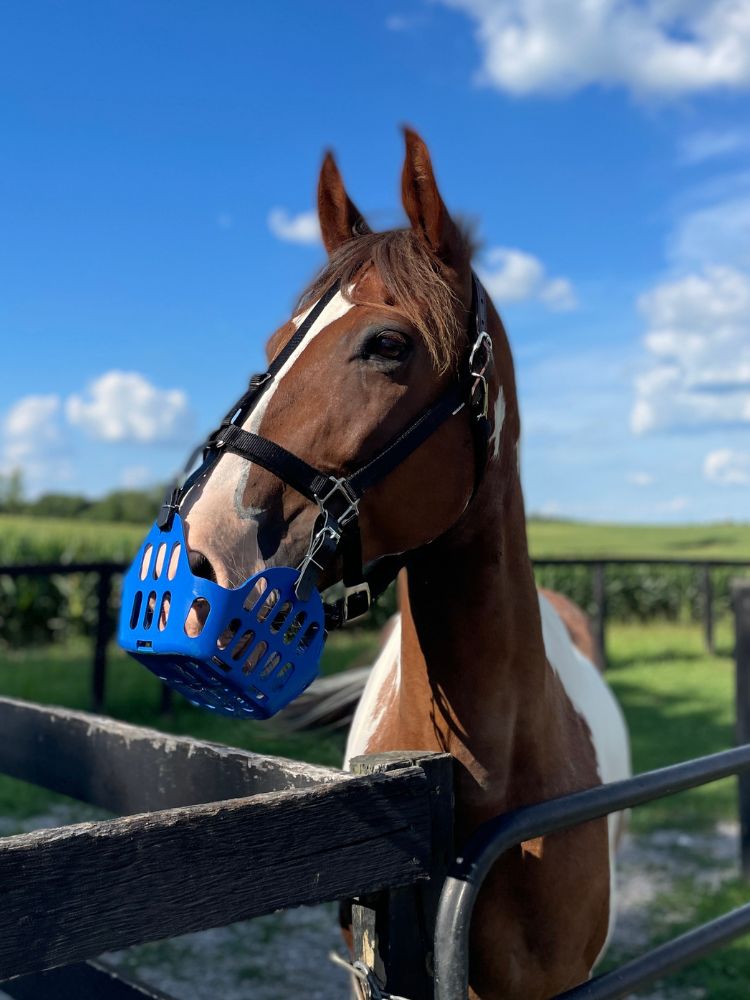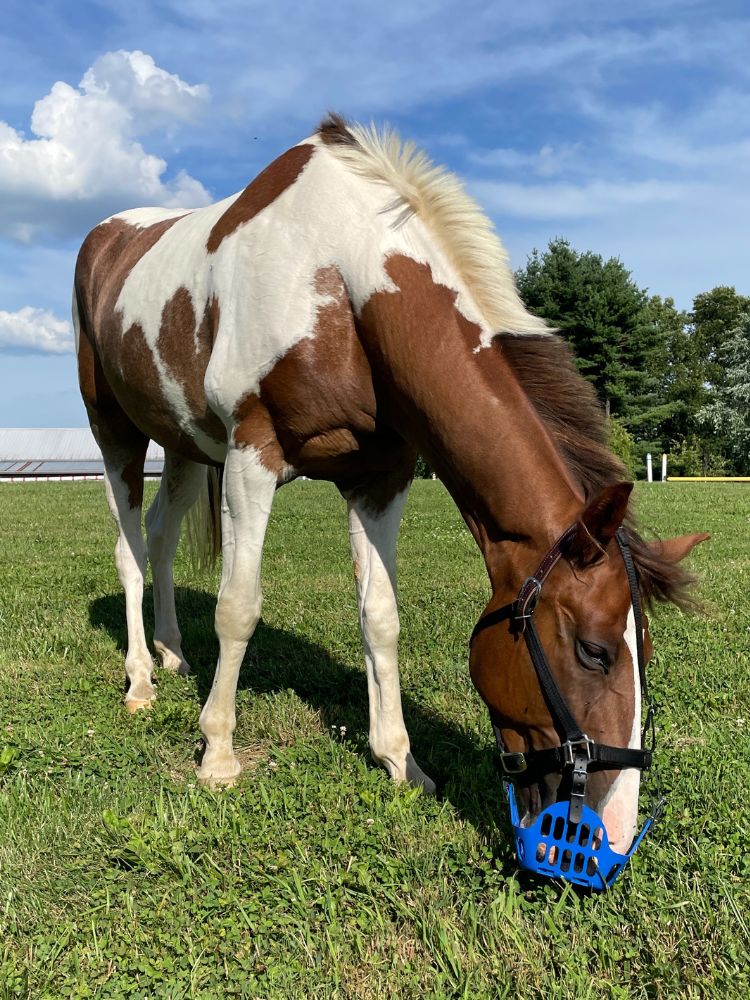 FAQs
GG vs Standard Halters
Measure Your Horse For a Halter

A full, step-by-step video tutorial on how to measure your horse for the correct size GG Equine Premium Breakaway Haltter
What Part of the Halter is Breakaway?

The leather crownpiece is an essential part of the GG Equine Premium Breakaway Halter.

Made with real leather and lined underneath with felted wool, the crownpiece is designed to break away in the event your horse, pony, or donkey gets caught on something.

In the event that happens, we sell a leather crown replacement to get your horse back into the pasture safely.
Attach a GG Halter to a GreenGuard Muzzle
Using Tape to Prevent Halter Rubs

Even horses that don't have sensitive skin can develop rubs and bald spots from halters making contact with their faces. A roll of Gorilla Tape can make a big difference in mitigating or preventing halter rubs.
How to Handle Jaw Rubs

Sometimes the buckle, straps, or even the rear part of the muzzle can dig in behind a horse's jaw and cause rubbing.

This video outlines all the adjustments you need to make to minimize or even prevent rubs under the jaw and behind the chin.
Quick Fit Check

Only have a couple of minutes? Here's how to do a quick fit check for your horse's GG Premium Breakaway halter.
Can My Horse Use His Own Halter?

The GG Breakaway Halter is designed to keep escape artists from wriggling out of their halters and muzzles.

If your horse has a halter that they are comfortable in, rest easy! We have tips and tricks for adapting any halter with the GreenGuard muzzle.
Still Escaping? Try a Neck Strap

If your horse has a talent or a gift for pulling the halter over his head, we have a number of ideas, including using a neck strap to anchor the halter.
Making Mid-Season Adjustments

Spring and Summer are a long time for horse to wear a halter and muzzle combo. Time, wear, and weather pull and stretch things, especially leather. Here are some important adjustments to make as the season wears on so your horse doesn't accidentally slip out and eat the entire pasture.
Remove or Replace the Halter Clip
OUT OF THE DRYLOT!!
I had to keep my horse healthy and also let him be on pasture for all the benefits of the pasture without overeating !!
Great product
Muzzle and halter work great
Breakaway muzzle halter
This halter definitely works best for the suggested muzzle. Regular halter not so much. I did have to pad a couple areas to reduce the rub. Also, be patient in letting your horse learn to use it. Sometimes harder for the owner than the horse! Overall I would give it a high rating!
Breakaway halter with green guard muzzle.
This halter is working great with the muzzle. Together they are keeping my horse from overeating. It seems comfortable to the horse and she has no rub marks.